A $517M credit union was positioned in a highly competitive financial environment with over 20 different financial institutions in their community. With the credit union's established strong presence amongst the 64 auto/motorcycle dealerships in their area, they sought to further boost their auto loans. The credit union decided to entice their members and potential new members in their community to refinance their existing auto or motorcycle loans from another financial institution with their credit union. The credit union launched a yearlong multi-channel auto loan campaign resulting in over $4.5 million in new loans.
The Audience
The credit union targeted a wide range of their members for their 12-month campaign to maximize their reach. They looked at active members that had ≥ $50 in their membership but lacked an indirect loan or auto & motorcycle loan on their account. They specifically targeted those who fell into at least the one of the following categories:
Young borrowers (age 25-45)
Emerging families
Women
People moving into the area
Value conscious
The Offer
The credit union built a competitive offer of 1% cash back and no payments for 90 days for a refinanced auto loans to standout from their competition. Their auto loan offer also featured:
Automatic payments – Never forget a payment again with automatic payments.
Easy terms and low rates – Lower your current monthly payment, rate or loan length.
No application fee – None, nada, zilch.
The Marketing Channels
From January 1 – December 31, the credit union leveraged a multichannel marketing approach to highlight their offer from various angles and continually promote to their target audience. Over the course of the year, the credit union spent a total $2,679.90 on the promotion of their auto loan offer. Their marketing campaign included a combination of print and digital channels:
2000 inserts
Posters inside the branches
Banners outside
Statement envelopes (for 1 month)
Paid social media ads
Email messages powered by Core iQ
The Results
Over the course of entire year, this campaign generated 208 auto/motorcycle loans and $4,458,258.45 in loan origination.
And in just August alone, the credit union leveraged Core iQ to send a targeted email to 6,248 of their members resulting 57 conversations totaling $739,393.84 in loan origination.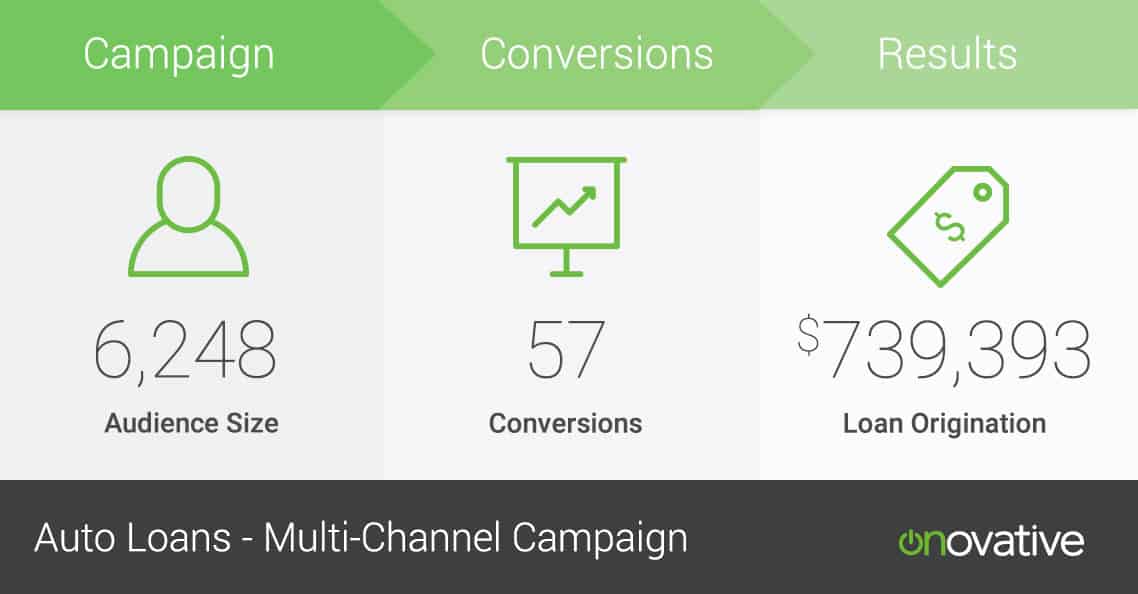 This robust and outstanding multichannel marketing campaign earned the credit union a Diamond Award from the CUNA Marketing & Business Development Council in the "Complete Campaign" category.
Ready to see how Core iQ can power a successful loan campaign and drive results for your financial institution?
Schedule a personalize demo with us to learn more.

The post How One Credit Union Generated $4.5M Loans with an Award Winning Multi-Channel Campaign appeared first on Onovative.