With the environment we still find ourselves in, bank and credit union marketers continue to face the challenges of engaging and staying connected with their customers. The average consumer is exposed to over 5,000 marketing messages a day. Financial marketers are vying for their customer's attention in an extremely chaotic and distracting environment in a time when communicating and engaging is crucial for success. Banks and credit union need to deliver important information on both operational and relational levels. Operationally, financial institutions must be able to communicate changes to hours, staffing, and protocols. Relationally, financial institutions must assess their account holders needs and communicate relevant financial solutions. On top of this, as previously examined, due to COVID-19, traditional branch and in person engagement, which has historically been a major communication channel for financial institutions, has been drastically altered. Some of this engagement has been completely eliminated with branch closures, while in other cases in-person engagement is very limited with social distancing and drive thru only options.
Financial marketers must adopt a multi-channel engagement approach to stay connected with their consumers. With 80% of conversions happening after multiple touch points, a multi-channel marketing strategy is pivotal for success. Research shows that organizations experience up to 40% higher response rates when utilizing personalization and targeting from their data in their communications to make the message specific and uniquely relevant to the recipient. When asked how often people want to receive promotional emails, 86% of respondents said at least on a monthly basis. With 98% of consumers bring in their mail the same day that it is delivered to them, research has also found that 44% of consumers visit a website because of direct mail piece they've received. At Onovative, we've experienced firsthand that when financial marketers utilized direct mail with any other digital media, they see a 118% lift in response compared to using direct mail alone.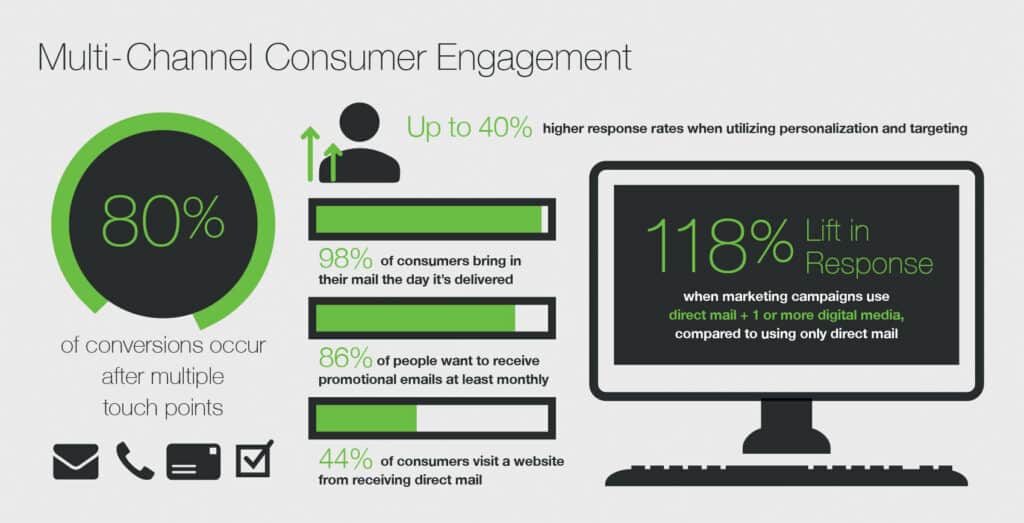 By investing in the right tools, banks and credit union marketers can seamlessly execute communications with their customers through multiple channels. When looking to utilize a marketing technology provider to create, send and manage your communications, what criteria should be considered?
Multi-Channel: Does this tool allow you to leverage proven marketing mediums and allow for rapid fulfillment?
No Minimums: Will you have volume flexibility in your campaigns?
Creative: Are there templates readily available to you to foster ideas and implement best practices?
Custimization: Will you be able to brand your communications and personalize with key data variables?
Segmentation: Can you access action reports that allow for pristine targeting?
Compliance Friendly: Does this tool give you the ability to easily approve and save your marketing your marketing messages one in place?
Answering "yes" to questions in the key criteria areas above will allow your financial institution to select the best comprehensive marketing technology provider for executing your multi-channel engagement communications as part of your life cycle marketing strategy, managing your data and measuring your success. Click below to discover more about what to criteria to consider in these areas when evaluating an all-in-one marketing technology providers:
Download a full MarTech provider evaluation checklist with all the key consideration for each of these areas
What communication channels can Core iQ help you take advantage of to best engage with your consumers? Schedule a demo today and learn more.

The post Leverage Marketing Technology to Stay Connected with Account Holders appeared first on Onovative Banking.