As a trusted community advisor, banks and credit unions are a valuable resource to raise awareness and encourage financial action through financial literacy programs. Not only will financial literacy programs help your account holders make wise financial decisions and foster good-will but will also result in more profitable account holders. Studies show that financially literate consumers are more likely to be engaged across multiple products resulting in both greater profitability and product utilization for your bank or credit union.
And with 55% of consumers looking to their financial institution as their primary resource for financial literacy, it's a no brainer to incorporate financial literacy examples into your overall marketing strategy. Download our Marketing Communications Calendar for a full list of seasonal topics and events to ensure your financial literacy communications across channels are timely and relevant to your audience. To get you started on your financial literacy program, here are six key strategies to help you incorporate financial literacy topics into your overall marketing plan.
1. Expand Your Social Media Content
Social media is an easy way to stay connected with your audience on a regular basis with platforms they already use every day. Engaging your followers via social media is a powerful tool that can allow your financial institution to drive brand awareness, foster relationships, position yourself as a thought leader in your community, and ultimately obtain new relationships. Use relevant hashtags to ensure your posts get maximum visibility. Here are a few tactics to leverage on social media:
IMAGES: Utilize relevant, eye-catching images to boost your financial literacy posts. Our team has created social designs to support your financial literacy efforts throughout the year. Download and modify them here:
Check out our social media template library for more resources like these.
RESOURCES: Sharing helpful tips and resources on your social media accounts from trusted industry peers enhances your financial literacy efforts. Post resources on a variety of financial literacy topics and differentiate your shareable materials to include statistics, reports, worksheets, podcasts, books, games, etc. to appeal to a wider audience. Here are a few good places to start:
VIDEOS: Launch a video series on various financial literacy topics to share tips and tricks that most interest your followers. Add a personal touch to your video strategy by leveraging your internal subject matter experts to share financial literacy advice as part of your video series. Or if you don't have the time or resources to create custom video content, there are numerous videos online to utilize for different consumer segments. Check out the Making Cents: Financial Literacy Educational Videos designed for students from PBS.
2. Leverage Email Communications
Existing account holders are much more likely to open your emails because of your ongoing relationship with them. Sharing financial literacy topics with your account holders via email is ideal to strengthen your relationships and position your financial institution as a helpful resource when it comes to all financial topics. Here are a few ways to incorporate financial literacy into your email communications:
NEWSLETTERS: Add a regular financial literacy section to an existing e-newsletter. In each edition, share advice on a different topic such as budgeting, saving, debt management, home buying, or online/mobile banking updates. Don't have an e-newsletter? Consider launching a quarterly e-newsletter to share updates and information with your account holders.
PRODUCT EDUCATION: Incorporate relevant and helpful financial literacy information into your email product offers. Position your product as a resource to help them achieve their financial goals and remind them of the benefits of partnering with your bank or credit union for their financial needs. Link back to your website where your account holders can access more information about the benefits of your offer to further establish trust.
When you don't have email addresses or your open rates aren't up to par, direct mail is a great way to communicate with your account holders. Going the extra mile to share financial literacy topics and resources through the physical mailbox is an effective means of communication to show account holders you truly care about their financial well-being.
POSTCARDS: When it comes to financial literacy topics, you can incorporate helpful bite-size information into your postcard communications. HELOC postcards as part of an overall campaign are a great example of educating your account holders on leveraging their home equity as a smart way to borrow cash while also promoting your financial institution's offer. Learn more about how to develop a successful HELOC promotion.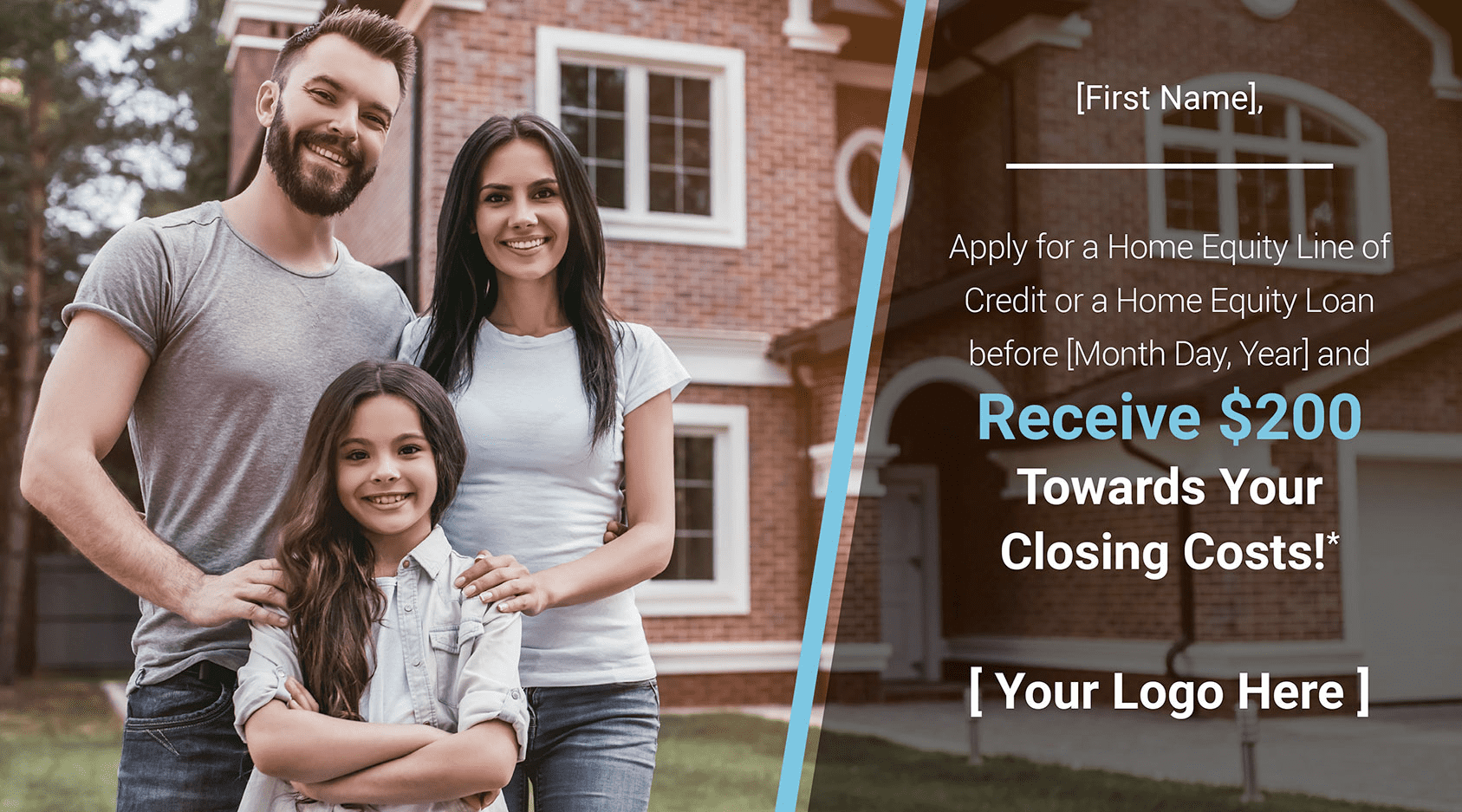 Home Equity Line of Credit or Home Equity Loan Postcard – Closing Costs Incentive
LETTERS: Sending a direct mail letter is a great channel when you have more to say to your target audience. You can clearly communicate products that are timely and relevant, explain the benefits of the product, and share the specific details for how your products and services will help your account holders manage their finances more effectively. For example, send a letter to all your account holders who do not currently have a savings account and highlight the benefits of opening one with your financial institution. Share savings tips and give real life success stories of how your account holders have been able to use their savings accounts for their financial wellbeing. Visit our letter template library to download examples.
If the past few years have taught us anything, it's that people are looking for real connection. Invite people to engage with your financial institution and foster deeper connection by hosting financial literacy events throughout the year. Not only will these events give your community the opportunity to connect with your brand on a personal level, but it will establish your financial institution as a resource and thought leader while also boosting traffic in your branches. Here are a few ideas:
EDUCATIONAL CLASSES: Offer classes focusing on key topics your account holders have expressed interest in learning more about. Consider starting with a budgeting class where you facilitate the steps to create a budget and share the benefits of your savings programs to appeal to a broad audience. To keep it flexible, you can also offer a virtual class or short recordings for convenience.
LUNCH & LEARN EVENTS: Invite your account holders for lunch at your branch or a designated community location while you dive into a specific financial topic relevant to your community and audience. Here are two topics that are popular right now:
Home Buying:

 

Invite a local realtor to speak alongside your financial institution to discuss your market, promote your mortgage or HELOC offers, and educate attendees on the application process. Be sure to take the opportunity to ask them where they are in their home buying journey to send helpful resources and communications post-event depending on where they are in the process.
Financial Fraud:

 

With fraud being an ongoing challenge, educating your account holders, especially senior citizens, about popular scams is extremely valuable. Share tips for how to avoid becoming a victim of financial fraud and next steps to take if they become a victim of identity theft. Refer to the

 

ABA Safe Banking for Seniors

 

program for presentation templates, activity sheets and more.
5. Get Involved in the Community
Look for creative ways to be a financial literacy advocate in your community. Finding these opportunities allows your financial institution to establish a positive reputation in your community, strengthen existing relationships and ultimately obtain new ones. Here are two ideas to get you started:
SCHOOLS: Make a connection with your future generation of account holders by getting involved with your local school systems. Develop relationships with school administrators and seek opportunities to be an educational speaker on financial literacy topics to equip students with good financial habits and skills. Consider hosting savings events or competitions to teach younger students about the benefits of saving money and promote youth savings accounts. Offer classes to high school students on financial planning, budgeting, and loan applications to prepare them for how to responsibly manage their expenses after graduation.
PARTNERS: Connect with your local Chamber of Commerce to share helpful resources for local business owners. Forge relationships with local real estate offices to share resources for home buyers and establish your financial institution as their preferred mortgage provider.
Regardless of age, it's always easier to learn and retain information when it is memorable and fun. When you deliver your messages, look for ways to make it exciting and relevant to your audience. Here are a few of our favorite examples:
QUIZ: DoSomething.org, the largest organization for young people and social change, launched a nationwide financial literacy campaign that teaches young people how to make and save money by inviting them to answer five amusing financial questions. Check out their fun quiz and promotional video.
GAMIFICATION: Games are a popular and legitimate way to teach students of all ages useful skills and concepts. For something like financial literacy education that might be dull if taught in another format, it can really keep your audience engaged and interested. Check out these financial literacy game ideas for all ages.
Remember, the more your account holders understand personal finance, the more engaged they will become with your bank or credit union. To successfully execute these six strategies, you will need to educate your account holders about financial literacy topics year-round.
Core iQ can help you easily execute your communications using automation by leveraging your data to build unique audiences. This will empower you to build personalized and relevant communications to targeted audiences that help you retain existing account holders and acquire new ones across multiple products.
Ready to learn how Core iQ can help you seamlessly execute your financial literacy program strategies and drive results for your financial institution? Book a personalized demo with us today.

The post 6 Strategies for Leveraging Your Financial Literacy Program appeared first on Onovative Banking.